Toutes les Machines du Monde
Britain, America, New Zealand
Aviation museums arranged by rating
 Click on the photo for each museum to visit our photo page for that museum

Omaka Aviation Heritage Centre, Marlborough, New Zealand, Part 1    ★★★★★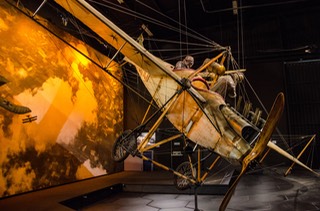 www.aviationheritage.co.nz 
This amazing place on the South Island of New Zealand shares the incredible collection of WWI airplanes put together by the famed film director Peter Jackson.  As you will see in the photos, not only are the planes themselves worthy of any museum in the world, the manner in which they are displayed goes well beyond the norm.  The lifelike mannequins and scenes not only show the planes to excellent advantage, but help create a sense of time and place that really cannot be matched.  If you have a list of aviation museums you'd really like to see, this one has to be on it.  The museum space is shared with a separate WWII exhibit, the photos of which we will post soon.

National Naval Aviation Museum, Pensacola, Florida    ★★★★★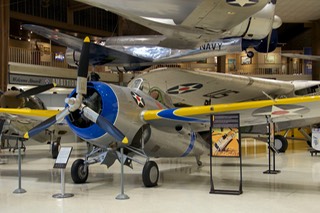 A great place to spend a day or two exploring the US Navy's collection of historic war planes.  A huge facility with both indoor and outdoor displays of aircraft and excellent lighting of the exhibits.  Lots of interesting displays and plenty of room to roam.  This is our favorite of the US aviation museums we've visited and we have been there several times.  Our most recent visit was in the fall of 2015 and the pictures on this page are from that visit.

National Air & Space Museum, Udvar-Hazy Center, Washington D.C.   ★★★★★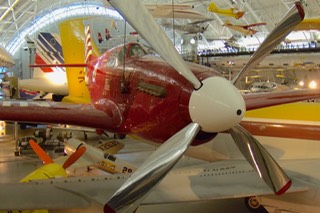 This is the relatively new annex to the Smithsonian Air & Space Museum on the Mall in Washington D.C.  It was built to house some of the enormous overflow from the collection that could not fit in the original space.  It is a wonderful spot to visit, with lots of interesting exhibits including the Enola Gay from WWII and one of the space shuttles.  Your visit is free although there is a charge for parking.

The Imperial War Museum, Duxford, England     ★★★★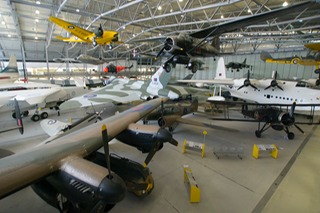 www.iwm.org.uk/visits/iwm-duxford
There are five Imperial War Museums in England.  This site is located on a retired bomber base near Cambridge and, while not actually a Royal Air Force museum, it is the one IWM site that focuses on aircraft.  We drove by one day and noted a sign for an air show to be held over the weekend so we arranged to return to see the show and the aircraft displays.  The museum visit was well worthwhile and the air show itself was great fun.  Admission is free.

The Royal Air Force Museum London, Hendon, England     ★★★★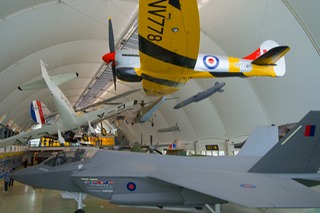 The Royal Air Force has two main museums in England.  This one, located in Hendon in northwest London, focuses on the Battle of Britain, though other periods are displayed as well.  The other location, at Cosford, specializes on the Cold War period.  We visited Cosford earlier this year and will post photos soon.  The Hendon museum makes for a wonderful visit, with many planes on display in four roomy hangers.  My only negative comment would be that three of the four display areas are quite dark for photographic purposes, particularly the main Battle of Britain display where it seems an attempt is made to darken the entire area to resemble a night time scene during the blitz.  Despite this one caveat, the museum is well worth the visit.  The WWI display was undergoing renovation at the time of our visit in 2014.  Admission is free.

The Royal Air Force Museum Cosford, England     ★★★★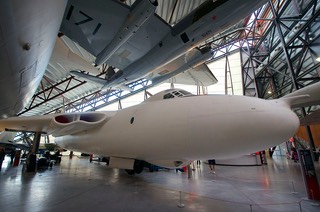 This is the second of the two main Royal Air Force museums in England.  This one, located in Cosford in the Midlands northwest of Birmingham.  Its focus is on the Cold War period, but no RAF museum can ignore the WWII Battle of Britain, which is also represented. The museum is housed in a modern facility and though everything is a bit crowded, good information displays are provided and the history of the cold war is told well.  The huge bombers and many missles on display are actually a bit frightening as they recall the time when a nuclear holocaust was likely.  Perhaps not as special a place as either Duxford or Hendon, this is still a pretty cool place to visit.  Admission is free with a nominal charge for parking.

War Eagles Museum, El Paso Texas   ★★★★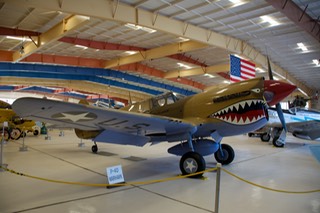 www.war-eagles-air-museum.com/
Another fine airplane museum that is well worth a stop if you are passing through El Paso.  We first visited here in 2002, but returned again in 2014 so we could get some digital photos to share with you.  This is a wonderful privately funded collection of not only airplanes, but period automobiles as well.  It's a bit crowded as the collection continues to grow, but everything is lovingly maintained and many of the planes and cars are in flying/driving condition.  Actually located at the airport in nearby Santa Teresa, New Mexico, it is most easily reached from El Paso.

National Museum of the US Air Force, Dayton Ohio    ★★★★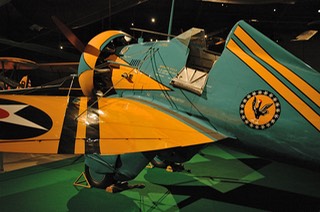 Another must see for aviation buffs, although the naval aviation museum at Pensacola is considerably larger and, we think, more interesting.  This museum is very dark inside and thus a difficult place to photograph.  We visited Dayton in 2006 and hope to visit again so that we can upgrade our photos.

Croydon Aviation Heritage Centre, Mandeville, New Zealand     ★★★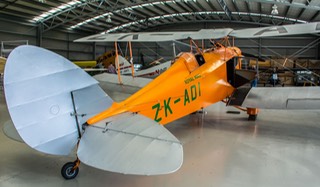 http://www.experiencemandeville.com/museum/
This small but beautiful museum has been around for a long time.  It is known for its primarily DeHaviland collection and all the planes are said to be in flying condition.  The hanger is rather crowded for optimum viewing and on a sunny day such as the one when we visited the light coming in the open hangar doors can be overly bright, making photography difficult.  Still well worth the visit. The countryside around Mandeville is lovely as well.

Battle of Britain Memorial, Capel-le-Ferne, England     ★★★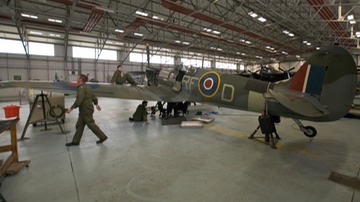 www.battleofbritainmemorial.org/the-memorial/
Battle of Britain Memorial Flight, Lincolnshire, England    ★★★ 
The Battle of Britain is an important historical milestone to all of Britain and there is no shortage of remembrances in varying forms throughout the country; these are just two of them.  The Memorial Flight is an organization that maintains aircraft of the type used in the Battle in flying condition and displays them at airshows around the country.  The memorial on the Dover cliffs at Capel-le-Ferne is the National Memorial to those who gave their lives in the Battle of Britain.  We have shared a few photos from each of them here.

Wright Brothers National Memorial, Kitty Hawk, North Carolina    ★★★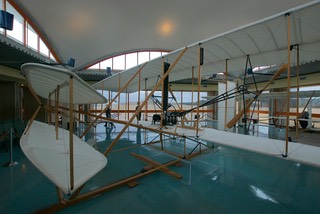 Site of the first heavier than air flight in 1903.  A small but attractive visitor's center that was built for the centenary in 2003 includes a reconstruction of the Wright Flier, films and artifacts, and the preserved site of the flights is just outside.  An effective but very low key memorial to the historic first flight.

Tillamook Air Museum, Tillamook, Oregon    ★★★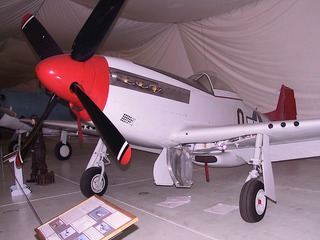 You can see this museum from the highway, which is how we found it.  Housed in a WWII blimp hanger, it's a unique spot.  Funky and small but surprisingly interesting and very well organized. Stop by here on your way to the cheese factory next time you're on the Oregon coast.