Toutes les Machines du Monde
Europe & America
Motorcycle Museums arranged by rating
 Click on the photo for each museum to visit our photo page for that museum

The Barber Vintage Motorcycle Museum, Birmingham, Alabama   ★★★★★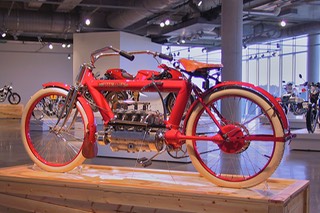 What the Nethercutt is to automobiles, the Barber is to motorcycles.  Housed in an elegant building adjacent to beautiful Barber Motorsports Park a few miles east of Birmingham, this is a wonderful place to experience motorcycles of all ages and styles.  The collection is large and varied and the bikes on display are beautifully restored and displayed.  Some years ago, we visited the Barber Museum in its earlier location when it was housed in a warehouse setting near downtown Birmingham.  That was a wonderful experience too, but the new setting is just perfect.  Don't miss it.

Sammy Miller Motorcycle Museum, New Milton, England     ★★★★★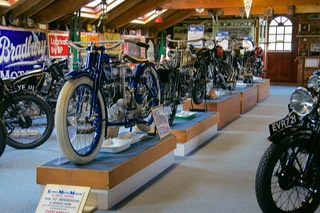 Wow! This is a terrific place and an absolute must see for any enthusiast. Hundreds of bikes in fantastic condition all displayed in a wonderful converted farmhouse with outbuildings. Excellent natural lighting and with tons of posters and other art work on the walls. The bikes themselves are amazing in their diversity and historical significance. Primarily British, but with plenty of international flavor as well. The list of one-offs and prototypes from manufacturers you've probably never heard of is lengthy and the racing section is chock full of bikes ridden by Sammy to his many victories and championships. There is much to learn from this collection and you should allow yourself at least one full day to explore it all; more if possible. A small but knowledgeable and friendly staff is on hand and Sammy lives on site so may be seen on any given occasion.  This is a terrific and wonderful place; I'm tempted to say enchanted, as I surely was by my visit.

British National Motorcycle Museum, Bickenhill, England     ★★★★★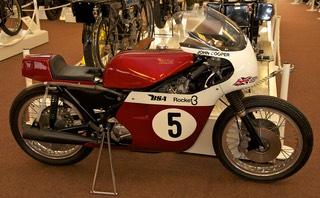 www.nationalmotorcyclemuseum.co.uk/museum/
This is a wonderful collection of bikes, mostly British, spanning all eras of motorcycle design.  Racing figures are featured in sepia tone posters lining the walls of the several large exhibit areas.  The facility is all the more amazing because the building and many of the motorcycles within were burned to the ground in 2003, requiring a complete rebuild and the restoration of many priceless machines.  Today the collection numbers 650 bikes and should be considered an absolute must see for any enthusiast.

Ducati Motorcycle Museum, Bologna, Italy     ★★★★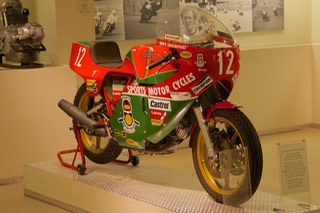 www.ducati.com/company/visit_us/index.do   
This is a beautifully done museum featuring Ducati racing bikes from 1946 to the present.  Ducati's many World Championship winners are displayed in all their glory.  The museum can only be seen on a guided tour.  Monday thru Friday tours include a tour of the adjacent Ducati factory, while Saturday tours are of the museum only.  Tours are available in various languages and reservations are required.  A Ducati store and dealer are located on the premises.  The website states correctly that on site parking is only available for Ducati motorcycles, but there is a large public parking lot nearby.

Classic Motorcycle Mecca, Invercargill, New Zealand    ★★★★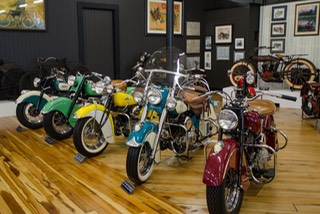 www.transportworld.co.nz/motorcycle-mecca/
This is an excellent collection opened in 2016 in a lovely old building in downtown Invercargill.  It is associated with the excellent Bill Richardson Transport World and a combination ticket is available.  The collection features mostly American and British makes with some Italian and German bikes as well. It also features a fair number of sidecar rigs and even a couple of Morgan three-wheelers, properly identifying them as being registered as motorcycles rather than cars.  The space is beautiful and the bikes are imaginatively displayed with excellent lighting.  One strength of this collection is the number of bikes from a given manufacturer, which allows for comparison between different models and years.  As a good example, I don't recall ever seeing so many Brough Superiors in one place.  Look closely at the photos and you will see the groupings of bikes; a row of Indians or Harleys or Triumphs, etc.  A really nice collection; highly recommended.  

Solvang Vintage Motorcycle Museum, Solvang, California    ★★★★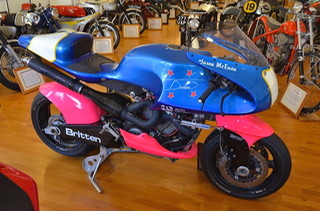 A very nice collection of around a hundred vintage cycles ranging from the 1900s up to 2001. Star of the collection is one of only ten Britten motorcycles ever made, and the only one that has never been raced. Many of the bikes on display have a racing heritage and excellent posters and other memorabilia are also shown.  A high percentage of the bikes are either from Europe or were raced there.  There are some Harleys, Indians and other American bikes, but the majority of the collection reflects a European style road racing heritage. A very nice little museum and well worth a visit.  Solvang is located about 125 miles north of Los Angeles and just a short distance inland from Santa Barbara.

MC Collection Motorcycle Museum, Sollentuna, Sweden     ★★★★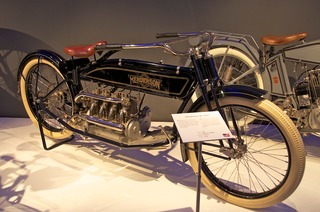 A small museum hidden away on the outskirts of Stockholm, this is a very nice spot and well worth a visit if you are in Sweden.  About 120 machines, heavily weighted toward American bikes between 1905-1940 with lots of racing models in the mix.  Upstairs is a small group of more modern bikes, but the reason for coming is the vintage collection. The bikes are beautifully restored and maintained, the lighting and the printed information are both good, and the whole experience is low key and enjoyable.

World's Fastest Indian Displays, Invercargill, New Zealand.    ★★★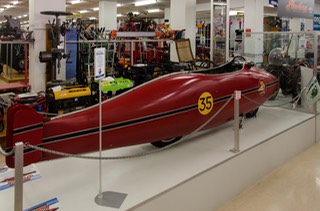 The name Burt Munro is known to motorcyclists around the world, primarily through the 2005 movie "The World's Fastest Indian", starring Anthony Hopkins.  Burt was born and lived his life here in Invercargill, the southern most city in New Zealand, and is a local hero.  There are two main  exhibits honoring him and his famous motorcycle, which began life as a 1920 Indian Scout.  If you make the pilgrimage to Invercargill, as I did, you will find a small exhibition in the regional Southland Museum along with a recently completed life size bronze statue of Burt riding his streamlined machine.  But the actual machine, along with lots of other bikes and a few cars can only be seen by taking a run downtown to the E Hayes Hardware Store to see the E Hayes Motorworks Collection.  Yes, this is a real live working hardware store and a very nice one at that.  Inside, scattered among the shelves of nuts and bolts, paint, tools and all the other things you'd hope to find in your local emporium, is a very worthwhile collection of motoring history.  Pride of place goes to Burt's actual bike, inside a glass case.  Make the trip, see the bikes and visit the two other terrific motor museums in Invercargill.  You'll be glad you did.

Laverda Museum, Lisse, The Netherlands    ★★★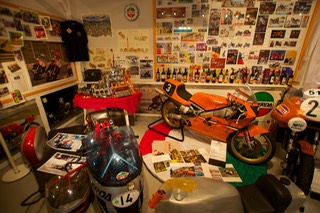 It would be tempting to say that the most interesting thing about this museum is its location in Holland but that wouldn't be fair.  It is a really fine small museum honoring the Italian motorcycle, Laverda.  It is in Holland simply because the man whose passion and dedication created the museum lives there.  If you go to The Netherlands you will want to see the tulips and this museum is in the heart of tulip country, just one kilometer down the road from the world famous Keukenhoff Gardens.  Hours are by appointment only, generally on the weekends.