Toutes les Machines du Monde
North America
American Automotive Museums arranged by rating
 Click on the photo for each museum to visit our photo page for that museum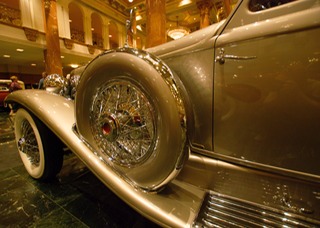 The Nethercutt Collection, Sylmar, California    ★★★★★
This is quite simply the best of the best; a stunning collection of automobiles displayed in elegant style.  Fabulous cars in an unbelievable setting.  You will see in the photos that there are three separate display areas; a replica of a 1920s high end show room and a separate large display building plus the basement under the showroom.  Read the website carefully before you go as a guided tour is an important part of your free visit and you need to make arrangements in advance.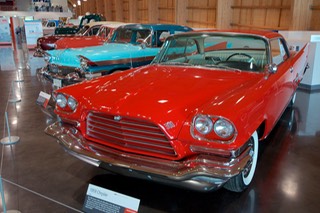 The LeMay Collection, America's Car Museum, Tacoma,Washington  ★★★★★
This newly opened (2012) museum makes a great addition to the existing body of car museums in the US. The LeMay collection of over 3,000 cars is listed by Guiness as the largest private automobile collection in the world. In addition to hundreds of cars from the base collection, the museum hosts several special exhibits at any given time, adding spice to your visit whenever you go. While featuring American cars and the American automobile experience, the collection also includes some foreign examples and one of the special exhibits at the time of our visit featured a number of British cars and motorcycles. The museum is housed in a large and beautiful purpose built facility and the lighting is excellent for viewing and photography. The museum also hosts a number of special events during the year and has extensive grounds for outdoor events such as car shows. Well worth anyone's visit when you are in the area and for those who live in the Seattle-Tacoma area an annual membership would certainly not disappoint. Highly recommended.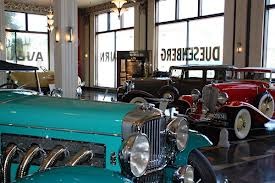 Auburn, Cord, Duesenberg Museum,  Auburn, Indiana   ★★★★★
This is a must visit collection.  Not only are the cars absolutely gorgeous, but the museum is housed in the original Auburn factory building, which is a National Historic Landmark. We have visited twice, but it was some years ago and our photos are not digital.  I've borrowed this picture from the museum website for reference.  We hope to visit again soon, at which time we will take photos to share on this site.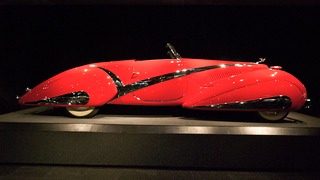 Blackhawk Auto Museum, Danville, California   ★★★★ 
A beautiful, albeit small, collection.  Located in an upscale shopping mall and feeling more than just a bit full of it's own importance, it is nonetheless a nice group of cars. The black building interior and rather harsh spotlighting of the cars makes photography more challenging than I'd like, but the collection is first rate and the individual cars are truly stunning.

World of Speed, Wilsonville, Oregon    ★★★★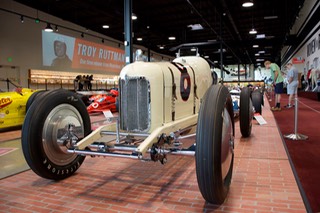 World of Speed is a great spot to visit.  It differs from most museums in that it does not exist to showcase a set collection of vehicles.  Rather, it displays racing vehicles on loan from other collectors or museums.  It is specifically a racing museum, and features cars from Indy Racing, NASCAR, Drag Racing and Land Speed Record attempts.  There is also a very nice exhibit featuring speedway racing motorcycles and extensive displays of racing memorabilia of all sorts.  The museum emphasizes its support of educational programs and its goal of sharing the racing heritage of the Pacific Northwest.  At the time of my visit the featured exhibit was celebrating 100 Years of racing at Indianapolis and it was very well done, with 33 Indy racing cars ranging from 1914 to 1996.  The quality of the cars and their racing heritage were excellent and the museums and collectors represented were top quality.  Clearly the cars on display at any given time will vary, but judging by my experience I doubt you will ever be disappointed by a visit to this museum. 

Unser Racing Museum, Albuquerque, New Mexico   ★★★★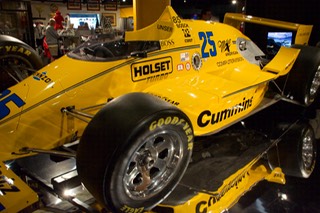 A beautiful collection of racing cars along with personal cars, pace cars and older American cars from the Unser family collection.  Founded by Al Unser Sr. in 2005 and dedicated to his parents, it is clearly a labor of love and is chock full of information and memorabilia.  Particularly interesting is the collection of video footage, including Indy races won by the Unsers, and excellent film of the Pike's Peak Hillclimb race, where various Unsers have won an amazing 36 races.  A wonderful spot to visit, and Albuquerque is a terrific town, especially in the Spring or Fall.  If you are lucky, Al Unser himself may stop by for a visit.

National Auto Museum, Reno, Nevada    ★★★★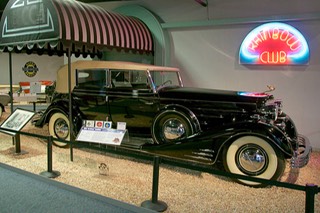 Harrah's Hotel & Casino has long maintained an extensive auto collection in Reno.  Now called The National Auto Museum, it is largely unchanged from earlier times and that's just fine.  It is a large collection and is maintained in excellent condition.  Very strong in cars from the Antique and Vintage eras, it also has good representation in Luxury cars of the late 20's and 30's, a reasonable number of foreign representatives, mostly from the 50's, and a good sampling of post war American cars.  The number of racing cars is small and that room is particularly crowded.  Period appropriate displays accompany many of the cars.  Overall, the museum is reminiscent of the French National Museum at Mulhouse, particularly in the generally low ceilings and use of gravel around the cars.  Lighting is adequate, although the museum tends to be somewhat dark for photography so working without flash is a challenge.  Certainly worthy of a visit if you find yourself in Nevada.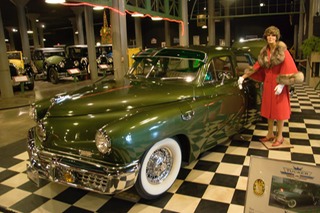 Wisconsin Auto Museum, Hartford, Wisconsin   ★★★★
We came across this fine museum entirely by chance.  Wisconsin has been the home of a number of automotive manufacturers including Nash, Hudson, Tucker and Kissel, which was based in Hartford.  The Museum is located in a very attractive period building and proved well worth the visit.  Lots of great cars you won't necessarily see in other collections.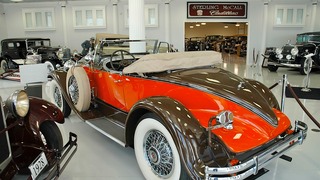 Sterling McCall Cadillac Museum, Warrenton, Texas    ★★★★ 
In rural Texas a ways east of Austin we happened to spot this place and pulled in for a visit.  Sterling McCall is a long time Texas Cadillac dealer and car collector and the museum displays lots of cars, not all of them Cadillacs, in a stylish setting.  We had a nice time and had the place all to ourselves as we were the first ones to sign the guest book in several days.  The caretaker was delighted to see us.

The Great Race 2016 (rally event), Lusk Wyoming      ★★★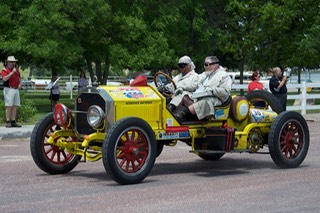 I'd heard of The Great Race before, but this year we learned at the last minute that it would actually be passing near where we would be.  So we made a small adjustment to our route and caught them at their planned lunch stop in the small town of Lusk, Wyoming.  The  route changes every year and it's a hoot if you ever get the chance to catch them.  They have scheduled stops for mid-day and evening, and then of course the starting time the next morning.  About 100 great cars 1972 and older, with scoring on overall best performance but with an added handicap system to reward older cars.  Lots of fun, look it up!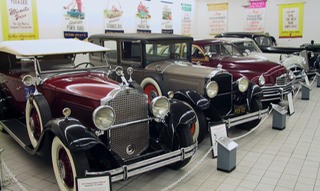 National Packard Museum, Warren, Ohio    ★★★ 
Located in part of the former factory in the hometown of Packard Motor Company, this small but interesting museum tells the Packard story and gives you a close up view of some beautiful cars.  Lots of period photographs and ad copy add to the experience.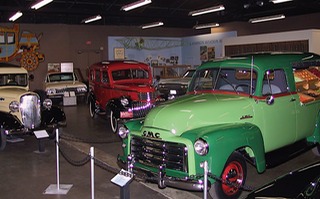 R.E. Olds Transportation Museum, Lansing, Michigan    ★★★
This is an Oldsmobile museum even though R.E. Olds was forced out of the Oldsmobile company just a few years after it was formed.  It also features the REO cars and Diamond REO trucks, including the original "REO Speedwagon" fire trucks, that Ransom Eli Olds went on to develop.  Lansing's a nice town and this is a nice little museum.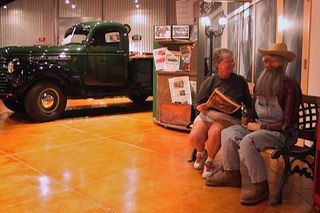 Snook's Dream Cars, Bowling Green, Ohio    ★★★
A genuine drive by, never heard of it before, kind of experience and a real hoot.  Owned and operated by Bill Snook and his son Jeff, it's an amazingly eclectic gathering of british sports cars and Americana.  Lots of fun if you happen past.